Hello my lovelies! Hope midterms, assignments, and papers haven't totally stressed you out! It's time to unwind and relax a little. 🙂
UTCLC is collaborating with the Economics Student Association (ESA) along with its partners to bring you our first joint social of the year: BEERONOMICS!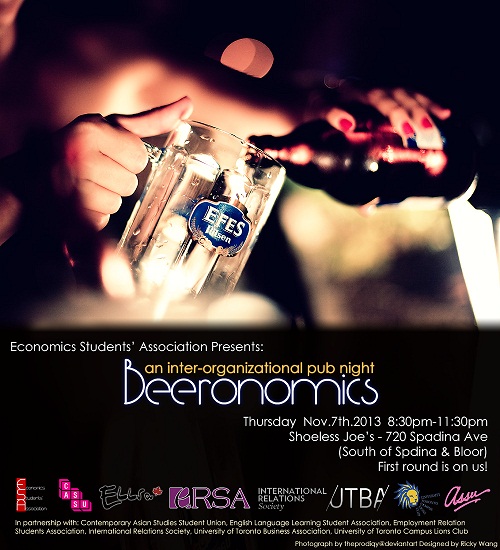 When: Thursday, November 7th, 8:30-11:30 pm
Where: Shoeless Joe's (720 Spadina Ave)
Who: YOU, your friends, and one awesome crowd.
*FREE ENTRANCE, FREE FOOD, FREE BEVERAGES*
Come meet fellow students from all majors and disciplines. We'll provide some free food along with both alcoholic and non-alcoholic beverages, while quantities last. What else are you waiting for? Grab your friends, put on your social caps, and have a blast!
A special thanks to our partners who helped make this event possible:
-The Economics Students' Association (ESA)
-English Language Learning Student Association (ELLSA)
-Employment Relations Students Association (ERSA)
-University of Toronto Business Association (UTBA)
-Contemporary Asian Studies Student Union (UTCASSU)
All U of T students are welcome. Mark this in your calendars, we'll see you there!
https://www.facebook.com/events/656579737696129/
– M